July 16, 2019 @ 8:00 am

-

5:00 pm
Sunday August 11, 2019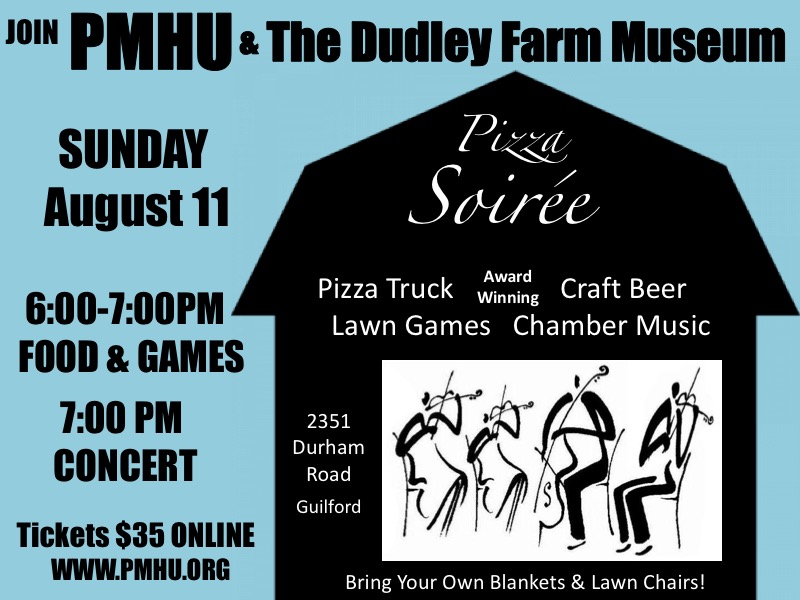 Project: Music Heals Us & The Dudley Farm Museum partner to present an evening of gourmet pizza, award-winning brews, and chamber music in a barn. Grab your picnic blankets and lawn chairs and come enjoy the inaugural…
PIZZASOIRÉE at DUDLEY FARM
on August 11, 6pm-8pm
2351 Durham Rd, Guilford, CT.
PMHU and The Dudley Farm Museum present a preview of their anticipated upcoming summer festival, Shoreline ChamberFest. The new 4-dayFestival of Music and Food, slated for June 2020, will present the world's finest in chamber, jazz, and folk music amidst the rustic charm and 300-year-old history of one of New England's most beloved farms. This summer's "preview concert" on Sunday, August11th, catered by FrankAndrews Mobile Kitchen pizza truck and the Gold-MedalWinners of the Great American Brew Festival – Melvin Brewing, will feature the internationally-acclaimed Co-Directors of PMHU, violistMolly Carr and cellist Andrew Janss, alongside PMHU's roster of musicians from the Juilliard School, Lincoln Center and Carnegie Hall, performing Antonin Dvorak's iconic "American" Quintet.
Don't Wait!
Limited Space Available!
— All proceeds directly subsidize Project: Music Heals Us' regular programming in local nursing homes, hospitals, hospices, homeles sshelters, and prisons. PMHU presents interactive classical music performances to diverse audiences by artists of the highest caliber in order to provide encouragement, education and healing, with a focus on elderly, disabled, rehabilitating, incarcerated and homeless populations.
For more information please visit www.pmhu.org  or email [email protected]
— The Dudley Farm Museum, located on ten picturesque acres in North Guilford CT, is maintained and operated by the non profit 501 (c)3 Dudley Foundation. The museum occupies a portion of the land farmed by the Dudley family foralmost 300 years. Cared for and maintained by volunteers, the farmhouse museum, barns, outbuildings, grounds and livestock appropriate to the period allow visitors to step back in time to experience farm life as it once was. The concert venue, The Munger Barn,was originally built as a cow barn in 1890 in Madison, CT. It was dismantled and relocated to the Dudley Farm Museum in the mid 1990s. An old fashioned barn raising in 2002 brought it back to life as the center for social gatherings , programs and workshopsat the farm. Visit www.dudleyfarm.com formore information about the museum and how to help preserve the past for future generations.
Event Navigation