September 21, 2019 @ 9:00 am

-

12:30 pm
Saturdays, June 1 – October 26
9 AM to 12:30 PM
Homegrown and Handmade – The Dudley Farm Farmers' Market is a family-oriented gathering place held on the picturesque grounds of the historic Dudley Farm Museum. The Market provides the opportunity to purchase local and organic seasonal produce and handmade arts and crafts, while enjoying the beauty and serenity of the Farm as it was in the year 1900. In addition to fruits and vegetables, also available are breads and pastries, eggs, fresh cut flowers, herbs and potted plants, maple syrup, jams and jellies, naturally-raised meat, pickles, and fresh squeezed lemon- or limeade, natural body products, goats milk soap, hand-spun yarn, paintings, ornaments, cards, pottery, jewelry, woodworking, sewing, felting, knitting, quilting, painted clothing, and more.
Children's Corner: In every summer market, unless it rains, there will be a Children's Corner, from 10 to 11:30, featuring nature and historic crafts, story telling, gardening, and occasionally animals. Check Facebook: Dudley Farm Farmers' Market for updates on special events and activities offered.
Special Events at The Summer Market
June 1: Planting Day. Children will be able to decorate a pot and plant a flower in it.
June 8: The Dudley Farm Museum will be celebrating CT Museum Open House Day with tours and activities. Some vendors will demonstrate antique crafts.
June 22 (rain Date June 29): Well Being Day. Free Tai Chi and yoga classes; chair massage; walking labyrinth, healthy eating, music and mandalas, and healthy moves for gardeners.
August 10 (rain date August 17): Farm Day. Farm related games for families to play together. Tug of war, potato sack races, corn hole, collect the eggs game, make scarecrows, and corn sandbox play.
September 7, Fairy and Elf Festival (Rain Date September 14): Come dressed as a fairy or elf, make fairy houses and a variety of other fairy crafts, pet rabbits, save the monarch butterflies, blow bubbles, and dance to Midsummer Night's Eve by Mendelssohn.
October 26: Halloween. Come in costume and trick or treat at the vendors' tables.
Holiday Market 2019
December 7, 9 a.m. to 2 p.m.
December 8, 11 a.m. to 3 p.m.
December 14, 9 a.m. to 2 p.m.
34 vendors will offer wreaths; greens; boxwood trees; floral crafts; eggs, naturally raised meat and sausage; organic microgreens, dried fruits and herbs; jams; maple syrup, candy, walnuts and cream; popcorn on the ear; salsa; bread and pastries; organic teas; hot cocoa and cider; goats milk soap; natural body products; alpaca yarn; beeswax candles and sculptures; ornaments; and a wide variety of other hand-crafted gifts.
Please check back here and Facebook, Dudley Farm Farmers' Market, for more special events that will be posted as they are scheduled. Markets and special events are subject to cancellation due to inclement weather. Alternate dates will not be scheduled unless specifically noted.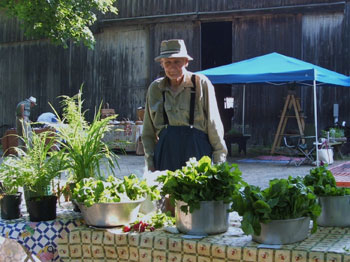 Event Navigation